The comedy crew at Rochdale Lib Dems Drake Street HQ have made the news again with another ridiculous press release of Paul Rowen "demanding action".
Struck by a power cut, Team Rowen were forced to "Carry On...Camping".
Today's Manchester Evening News carries the full sorry tale.
swiftly followed, across the office floor, by the
Rochdale Observer
and national infamy for their half baked bean exploits in
The Independent.
So what is Paul Rowen publicly "demanding action" about?
Apparently, The Sultans of Spin "
our office is open from 9am-5pm
" were about to sneak off early at 2.30pm but the power cut meant the shutters couldn't go down on both 144 and 142a Drake Street (Landlords, and recipient of taxpayers' cash, to "both" office(s) is the Rochdale Reform Buildings Ltd).
Messers Swarbrick, Power, Hennigan and Rowen didn't appear happy campers. They had to wait 6 hours. No amount of Parliamentary expenses and allowances could make things better. The cupboard was bare of 40p taxpayers' bananas. They had to rough it round a camp stove, forced to eat a slap up meal... of beans on toast.
If those in the know at Drake Street spill the beans about certain scandals... there would be a huge stink. And that is not hot air!
Recent coverage of Paul Rowen has an
increasing air of comedy about it.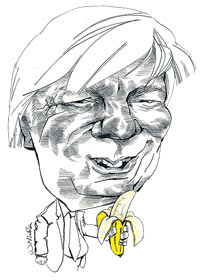 The apt photo used by MEN is from a recent banana protest. Camp leader Paul Rowen's woggle looks a bit skewiff.
What else could possibly go wrong for the Drake Street Dream Team?