At the height of the Parliamentary expenses scandal, Paul Rowen described the ongoing public row as
the hardest week of his political life
.
Paul Rowen's expenses included a claim for a 40p banana. This from a politician whose combined Parliamentary salary, expenses and allowances since 2005 are probably over £1,000,000.
And that doesn't include "double bouble" additional claims such as the overlap when Paul Rowen remained a Rochdale councillor for 2 years. Or his Parliamentary Light Rail Group trips or Council of Europe visits abroad. Or his second wage working for a Ugandan property company with close links to Rochdale and tenancies via or with Rochdale Council.
Yet still there was a claim for a 40p banana. And 15p knob of butter and 5p carrier bag.
Some scurrillous grafitti wananbees have had the bareface cheek to express their painted opinions in the form of a rat holding a banana under the tag "Spanksy"
Rochdale's current MP "Million Pound Paul" has come out fighting with bully boy legal tactics. Libel action is threatened against mention of bananas.
Political commentators such as
Hugh Muir
have dismissed such nonsense with mirthful scorn. The Guardian even went to the trouble of publishing an unflattering cartoon caricature of Paul Rowen grasping a banana...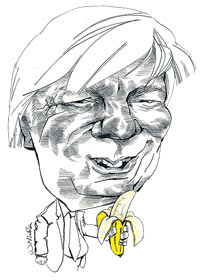 According to
Hugh Muir's column
, Paul Rowen's lawyers suggest that reference to bananas equates to their client being 'insane', 'unbelievable' or 'ridiculous'.
In what could be seen as an insensitive taunt against Rochdale's current MP, Tescos have just begun a nationwide advertising campaign.
Double Clubcard points.
Then, as if to rub salt into the wounds of the troubled Rochdale MP, Britain's biggest retailer illustrates the "double bubble" Clubcard bonanza with... bananas!
Is the writ already winging its way to
Cheshunt, Herts?
After publicly complaining the
indignity of eating baked beans on a camp stove
, and the neverending references to the 40p banana claimed on parliamentary expenses, Paul Rowen's "worst week" could be turning into an 'Annus Horibilus'.
But at least the next purchases of bananas and knobs of butter can attract double Clubcard points from Tesco.
Every little helps!
(Even if it is the hardpressed taxpayer that ultimately foots the bill).