An evening with Vince Cable organised by Rochdale Liberal Democrats has been
cancelled
.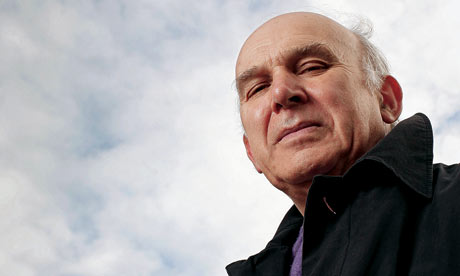 Billed as a party fundraiser, some saw this as an opportunity for the glow of Saint Vince to enlighten the murkier corners of Rochdale Lib Demmery.
With the ongoing thaw, it seems odd that the event was apparently cancelled because of the weather.
Rochdale Council's gritting efforts cannot be criticised.
Not because Impact Partnership and the subcontractors haven't been piss poor. The Roger Ellis dictat was more in the Ugandan sense that if there was to be open critcism of Council Services then those traitors could face an icy Idi Amin/Cyril Smith-like grip of their nether regions.
It is a good job Vince didn't make his visit yesterday to Lib Dem run Rochdale.
The electricity had failed in Rochdale Town Centre plunging shops and offices in darkness.
Imagine the scene if Vince has arrived at Rochdale train station late in the afternoon:
Met by an arctic Mad Max post apocalyptic nightmare. In the dim gloom, Vince is greeted by "agent" Adam Power holding a candle in a jam jar. They dodge the ice, crime scenes, potholes, drug dealers and sex workers as they travel down Drake Street - a near abandoned wasteland, much of it owned by a secret Lib Dem benefactor.
Lib Dem Rochdale: Empty shops, closed offices, abandoned factories but lots of "exciting" regeneration planned in the faded propaganda posters.
Such a senario could be funny if it wasn't so real and serious.
Rochdale deserves better than this disasterous, corrupt and immoral mismanagement.
Is that the real reason why Vince didn't turn up?
Or was it just that, despite a massive mailshot to promote the event, too few bothered to reply?
Poor Adam, taking over Dave's job isn't that easy after all.